Why is Website Traffic Important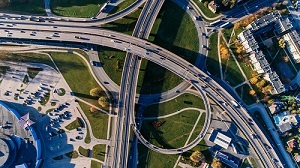 Website traffic (also called the number of your website visitors) is extremely important because the number of individuals visiting your website means the number of chances and opportunities to have new clients and customers or web page visitors. With increase or decrease in the number visitors to your website means an increase or decrease in the number of opportunities for you to share your brand, product or services. The greater the website traffic, the higher are the opportunities you have to generate successful leads and customers, to support and provide solution to their problems and finally sell your service or product, attract and grab new customers, and grow your business through goodwill and good name in the online market.
This doesn't mean the focal point is money making only. Rather in the longer race, heavy website traffic can help you to raise your business to new heights, not to speak of the profits that you make, multiply your product or services exposure, recruit more workforce, venture into new and attractive locations, initiate research activities, and develop more impressive and attractive products and services… and a lot more of the opportunities out there!
Website traffic functions as a significant indicator as well as main driver of business development. It helps to:
• Collect insight regarding the nature of your audience to facilitate decision making.
• Check whether your marketing strategy works well
• Produce further business leads, enhance conversions of visitors into customers and clients, and increase the number of active and potential customers.
• Enhance the SEO of your website and increase its credibility on search engines
However, these goals cannot be achieved without being careful about the type of traffic you are driving in. It needs to be done in a right manner.
Website traffic is important and has an impact in three ways
The bigger the bulk of your website visitor, the better!
Yet there arises a dire need of focusing your attention on enhancing the quality along with the quantity of the traffic to your website, because all traffic is not necessarily good and desirable. Conversely, a bad or unwanted traffic smash your business to the ground partly or completely. Thus alongside the number of the visitors, you need to work on the quality of the traffic in that it will help you make better conversion and get the window shoppers converted into actually paying ones.
How much website traffic do you need to grow your business?
Are you sure of how many visitors do you need for your business? That's not big rocket science. Just have an insight into the cost and expenses of your website and business of course. Evaluate the average worth of your average client.
Set your goal by knowing the range of revenue you need. Afterwards, work in a reverse manner and calculate the needed traffic to your website that will suffice to achieve your set target or goal. Do it as if you are planning backwards from the end goal which is your focal point.
A Test Case
You are running a "Pizza Delivery Business".
You need $4,000 a month to retain your existing budget.
Worth of each customer is $20 (buying 5 Pizza a month at $ 4 per pizza).
You will need to sell 800 pizza a month. On average every customer buys 5 pizzas in a month, so you need 160 customers every month to achieve your goal.
On a low average, working backwards, 100 website visitors help to to 1 lead. At the conversion rate of 1% from a lead to a actually purchasing and paying customer, you require 100 leads to get 1 new customer. To meet your goal of 160 actually paying clients, you are likely to require to drive 1600 website visitors. Brrrr….! That seems quite a herculean task, seeming impossible to achieve.
Always remember! This low percentage of conversion of 1% is a very hard and conservative bottom line, but businesses that use inbound marketing strategies and other online marketing and advertising strategies always succeed in achieving an increase in their rate of conversions as well as generation of leas and quality traffic.
If you manage to raise your traffic to lead conversion rate from 1% to 2% and your lead to client rate to 4% by driving good and authentic traffic and ultimately leads to customers, your total website traffic goal will be decreased down a total decrease of 85%. Amazing hah!
Understandably, website visitors' strength is not the sole factor that is the need of your business and according to the needs and requirements of your market and industry, you need to be always mindful of. However, having said that, it is sure that your website has a vital role to play in the success of your business via its traffic coupled with the quality and quantity of it.
Read More: 5 Free Ways to Increase Traffic to Website
#Why is website Traffic Important #Why is website Traffic Important #Why is website Traffic Important #Why is website Traffic Important #Why is website Traffic Important #Why is website Traffic Important #Why is website Traffic Important #Why is website Traffic Important #Why is website Traffic Important #Why is website Traffic Important
Relevant Post
Private Health Insurance in USA
The Top 10 Business Writing Skills to Learn Today
What Can You Do With an English Literature Degree?
Greece VS Turkey is over Hagia Sophia
Top 7 Workplace Safety Hazards in the USA
18 states in coronavirus red zone should roll back reopening
UN warns of falling vaccination levels due to COVID 19
Princess Beatrice marries in secret ceremony in front of Queen
A 33-year-old tech CEO mutilated brutally in a New York apartment
Our Social Presence
Facebook: