The importance of effective presentation skills is never limited to the boundaries of the classroom. Students always look for impressive topics for their academic presentation assignments during their college. The reason is that what the employers look for in their employees is their excellence in communication, more specifically their presentation skills. Hence those who possess such skills are more suitable for business negotiations. Such people are excellent managers because they know how to drive people and handle the situation through their communicative power. Thus the students are frequently reminded to polish their skills of how to deliver their message in a more convincing and impressive manner. Such skills play vital role information transferring process in academic as well as professional settings. The students, however, find it hectic to come up with interesting and attention-grabbing topic for presentation.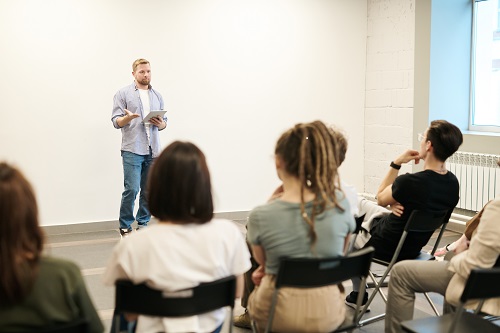 Academic Presentation
This is a presentation meant for academic purposes—mostly given as a class assignment. Accordingly, your instructor or professor assigns you a particular topic or lets you come up with a topic of your own interest. Your task is to do a background study for the topic, do research for its various dimensions, and conduct an analysis to finally prepare an exciting PowerPoint presentation that grabs the eyes, ears, and mind of the audience.
In order to develop students' communication skills, an academic presentation is the most effective tool. They, later on, use the skills they develop in their academics for personal and professional purposes in future. Students with little confidence feel shy and embarrassed while they are asked to present in front of the audience. They struggle with their fear of facing the audience. But they overcome this fear when they realize the real power of speech in practical life.
Therefore, those who try to avoid coming to the front and facing the audience must be made aware of the fact that the classroom is the best environment to gain and polish this skill. It provides a platform for the students to get to share their opinions and ideas with others. Later in life, the skill to impress with speech will help them enter the organizations and/or universities that only look for the excellent.
Finding Unique ideas for Presentation – Are these vital to Inspire the Audience?
How to grab and retain the interest of the audience? The first and foremost task for this purpose is to choose an interesting topic. It must be relevant to the course you are enrolled in. you have to refer to the recommended books in order to research the topic or idea. If you have a creative mind and can think out of the box, you have an added advantage. You can come up with a topic that elicits questions in the mind of the audience.
However, you must be careful when you utilize your creativity and novelty. There are certain topics and ideas which can never be recommended for such purposes. The best is to avoid them. For this purpose, you can take the opinion of others including your classmates, and your professor even. This will help you avoid unnecessary issues. Nevertheless, your ideas should raise some sort of controversy which will further stir up diverse questions and opinions. And this will keep your audience interested in what you want to say. Following are some unique topics that can do better in this regard:
The effect of Facebook on your mental growth
Letting students choose their topics for presentations
Do you believe in the saying that history repeats itself?
Social media as a waste of time
Students involvement in politics
Our Social Presence
Relevant Post: