10 Interpersonal Skills for Workplace Success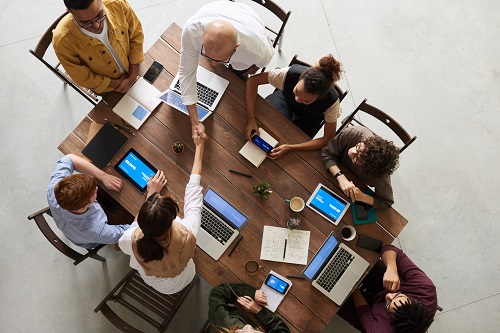 This article discusses the 10 interpersonal skills for workplace success which are vital for a professional to learn.
1. Work Ethic
Possessing a strong work ethic is highly valued by the recruiters. But the term needs explanation as to what exactly does work ethic mean in a professional context and why is one of the essential interpersonal skills for workplace success.
Accordingly, this can be split into three separate traits:
Professionalism—Your professionalism integrates everything from your self-presentation to your appearance and your behaviour with others.
Dependability – Employers need such employees who are dependable and who they can count on. If you are a time conscious employee, well prepared and deliver work as per your commitment, you are the one they are looking for. This exhibits your work ethic and pledge to the business.
Respect – All workplaces require you to be able to handle stress, and to work under pressure at some time. They want you to possess the capability to displaying refinement and grace under stress. Thus having these qualities pertaining to grace and respect will earn you more recognition and more preference. No matter how short the deadline or how intense things may get, always retain your composure, peacekeeping attitude, diplomacy, and dignity.
2. Self-Confidence
An other of the essential power tools regarding interpersonal skills for workplace success is the self-confidence. The right degree of self-confidence paves your way and opens doors for you. This helps you to gain recognition in the workplace as any employee has the skill to do thing. It is the self-confidence that helps you stand out among the multitude of skill employees in the workplace. It also shows your approach towards various situations and how you deal with them—positively and effectively, of course.
To be successful, it is necessary to exhibit self-confidence at every stage of your career. Your self-confidence is your vehicle on the road to success, regardless of whether you are a graduate searching for a job or a more experienced mature member of the team struggling for promotion.
Self-confidence at work improves your general image in the workplace. It transforms the way people see you to more positive patterns, and your ideas, views, and opinions are handled more positively.
Your self-confidence helps you in your communication with others, because it guarantees that you can deliver your argument unmistakably which will never miss the attention of the listener.
3. Relationship Management
This is the 3rd of the essential interpersonal skills for workplace success. Building compelling connections is a one thing yet overseeing them is something completely extraordinary. This is a significant ability in numerous jobs, from junior posts through to the managerial ones.
At each level in a business, you will be relied upon to interact with associates, partners, and customers. The capacity to oversee connections dependent on regard for one another and shared trust is significant inside any business condition.
4. Body Language
The next component in the list of interpersonal skills for workplace success is Body Language.Unfortunately, non-verbal communication is not attended to in its true spirit. It is often disregarded, but always remember! Your body language and gestures is always assessed, analyzed, and interpreted. Factors to consider when engaging and networking with others include:
Facial Expressions
Eye contact
Gestures
Posture and body position
Personal space
Your body language always determines how your verbal communication is seen. In fact, your body language has a bigger impression on your communication skills more than anything else.
5. Receptiveness to Feedback
Being available to input can assist you with growing both on personal as well as professional ground. View all criticism as an opportunity to learn and never respond defensively. This needs some practice, particularly if the input is negative. Yet always consistently take a full breath, and spotlight on how you can improve. This is one of those interpersonal skills for workplace success which makes you mature and strong.
To accept input, you should initially hear it out. Try not to make calculations and maps your reaction; simply tune in to what is being said. Accept what you have been advised and utilize this emphatically to additionally improve your exhibition and efficiency.
6. Listening
While improving your interpersonal abilities, the principal thing you have to learn is to listen. This makes it one of the most important interpersonal skills for workplace success. Inability to listen appropriately can have terrible outcomes. These terrible outcomes may range from failing to follow through on your supervisor's directions to not fulfilling the demands of the clients.
Undivided attention is an expertise that assists you with comprehending and learning from others. This also helps you to respond accurately to what they tell you. Giving non-verbal signs that you are listening with attention will likewise construct trust as the individuals you are teaming up with will feel heard. Shaking your head or keeping an eye contact with the listener serve far well than anything else while listening to somebody. To conclude, your knowledge of interpersonal skills for workplace success are of zero credit if you are not a good listener.
7. Conflict Management
The conflict management ability plays a key role among the interpersonal skills for workplace success for those involved in tasks that need collaboration and teamwork. This is particularly true for those looking at leadership roles. Conflict in the workplace has adverse effects on productivity, and creates negativity in the work environment.
Better conflict management skills include negotiation, diplomacy, assertiveness, empathy, and compromise. All these capabilities add to interpersonal skills for workplace success
Being able to put your views across, or defend the views of others, in a respectful and professional manner is a vital skill in the workplace. This ability not makes you popular among your colleagues and superiors, but also gives you an edge in getting your desired goals in an efficient and professional style.
8. Collaboration
The aptitude to Work collaboratively with the co-workers enhances teams to work productivity. This allows them to deliver positive results for customers and the business. Successful collaboration entails the ability to cooperate and respect each other.
Hiring managers frequently look for candidates who have a demonstrated reputation and proven track record of working effectively inside a group, and applicants who are eager to bargain and coordinate to convey uncommon and excellent results. This is an other evidence of the value of interpersonal skills for workplace success.
Your ability to collaborate with your team members—particularly in difficult situations – is a valuable selling point during your job application stage as well as final interview. Present yourself with a positive attitude and communicate your energy, interest, and enthusiasm for team work.
9. Workplace Etiquette
Your behavior and etiquette have a much higher value in determining your value on your workplace. How you come across to others speaks volumes. Acquiring and improving excellent and professional workplace etiquette is a great way to leave a lasting impression on people around you.
For this purpose, make sure you check your posture. Try to ensure that you stand straight and make eye contact, turn towards people when they are speaking to you, and give them a genuine smile. This gives them a non-verbal message about how much you value them and their views on one hand, and demonstrates your behavioral altitude.
Follow the dress code of the company and make sure that your accessories such as shoes, bags, ties, jewelry, and other decorative tools are appropriate for the workplace.
Always show courtesy and kindness to the people with whom you interact. Sticking to early arrival time in the morning adds more weight and value to your standing in the company. Knowledge and grasp of all these exhibit your command of interpersonal skills for workplace success.
10. Positive Attitude
Of all the interpersonal skills for workplace success, your Postive attitude is more visible. Staying calm and exercising positivity, even in the most taxing situations, is essential. Stay positive all the times–from the moment you submit your job application or prepare your cover letter through to the interview and the final formalities observed during the selection process, your first day at work and beyond. Staying calm and positive is what professionals value in themselves and others the most.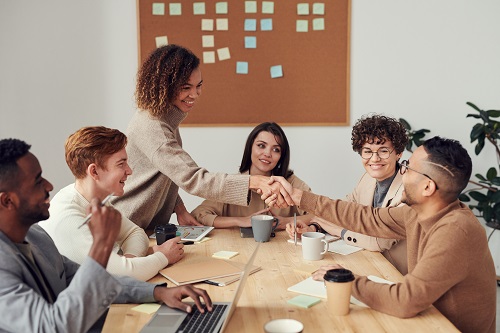 Speaking ill of something—your current or previous job, post, boss, or company—actually speaks ill of you. This is a negative attitude which decreases your dependability and trustworthiness. Hence never say anything negative about your current or past employer, even if you feel strongly about it. Your lack of positivity makes your employer doubt your integrity, and expects and fears the same from you in future when you will no more be part of their company.
Employees with a positive attitude are more inclined to treating others positively, which creates a pleasant work environment.
If you are interested in reading about Interpersonal Skills for workplace success, please see my other articles regarding the subject.
Please don't forget to leave your valuable feedback in the comments section at the end of this article!
Our Social Presence
Relevant Posts
Purpose and Importance of Speech
7 Power Tools to Improve Speaking Skills
Facebook