Gerunds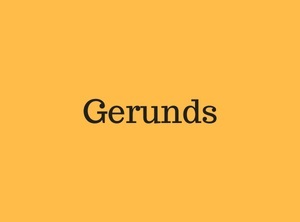 Gerunds are common grammatical concepts which we use on daily basis, regardless of whether we have knowledge of them or not. In this article, we will thoroughly discuss gerunds. Moreover, we will provide various examples to illustrate the concept. Thus you will feel an ease of its usage in your writing as well as your spoken language. Similarly, it will give you the competence to accurately recognize them inside the text.
Definition
A gerund is the –ing form of a verb used as a noun.
Gerund = Verb + ing
A gerund is used in the same way as the noun, i.e. as a subject or an object.
For example:
s v
Playing tennis is fun.
Playing is a gerund. Here it is used as the subject of the sentence.
s v o
We enjoy playing tennis.
Here the gerund playing is used as the object of the verb enjoy.
Prep O
He is excited about playing tennis.
Here the gerund playing is used as the object of preposition about.
Gerunds are formed with verbs, but they function as nouns. Thus it is an easy task to identify them from their structure. A gerund is formed when we add 'ing' to the tail of the verb. That is the only science to form it. Moreover, there is no other rule to form gerunds.
There is, however, one problem while you will come across this grammatical term. You need to have a little discerning eye to spot it. Confusion comes when it comes to the structure and form of a present participle. A present participle is also formed by joining 'ing' to the tail of a verb. Thus you must be able to identify gerunds correctly. Moreover, you need to have an ability to tell the difference between a gerund and a present participle.
Difference between a gerund and a present participle
You need to keep one thing in mind here, that gerunds are words that we form with verbs. Yet it functions as a noun. Conversely, present participle does not function as a noun. It rather acts as a modifier or a progressive verb. Thus the main point of separation between the two is that a gerund acts as a noun. However, present participle does not.
Exercises
We advise you to go through the examples of gerunds and or gerund phrases below. Moreover, notice the verb in the sentences. Thus you will find out that each one of their verbs ends in 'ing'. Hence by the end of this short and quick survey of the term, we are sure, you will have no difficulty identifying gerund and or gerund phrase within the text.
Working as the Writing Guru on the website has been his passion since he first met the ewriter29.
Let's go fishing in the river next weekend.
The examination department delayed announcing the result today due to some inadvertent reasons.
Abraham understood that his riding on the heavy bull was the most incredible experience he had ever had.
I avoided looking towards her because she was busy solving her assignment.
Relevant Post:
Our Social Presence
Facebook: