Business Communication
By Peter Hartley & Clive G. Bruckmann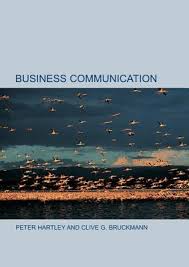 Book Description
It is a comprehensive, and the most updated introductory book to business communication in modern era. It combines the theory and practice of communication thus putting into doubt many old and outdated opinions about the communication process. This book covers the following concepts:
• Interpersonal communication, and analyzing of nonverbal communication
• Corporate communication, and its strategies
• Written presentation, both electronic and paper documents
• Oral presentation, with a focus on the use of electronic media
• Group communication, particularly practical techniques for group discussion and meetings
The book gives easy and valuable guidelines on how communication works wonders in performing important organizational issues, such as changes in organizational structures as well as cultures, and the effect of information technology.
This is perfect helping manual for undergraduates and postgraduates studying business communication. With its direct style and practical significance it will also support professional readers who desire to get a firm understanding and skills in the soft skill of communication.
Read More
Faqeer Rang by Sarfraz A. Shah
Loh e Faqeer by Sarfraz A. Shah
Our Social Presence
Facebook